If you are having a summer baby, you may want the new addition to your home and life to . . .
ENTER THE WORLD WITH A BANG!
Light up the day you announce to friends and family your baby's gender with a blue or pink gender reveal product from Jake's Fireworks.
Balloons, cake, ice cream, summer heat, and (let's not forget) that big finale! Is it a boy? A girl? All who gather with you to celebrate the new addition to your family will recall the shining lights that divulged the gender of your child. People giggling, congratulating, cheering; blue or pink sparks spraying the air with a bright promise of what is to come. Yes, the moment will be remembered!
Jake's Has A Firework for That
Pink and blue It's A Boy / It's A Girl fountains are sold in-store at Jake's Fireworks so you can light the night and everyone's hearts by unveiling the little treasure entering the world.
Jake's also carries show starters in-store, which will fill the night sky with pink or blue explosions (neighborhood gathering, anyone?)!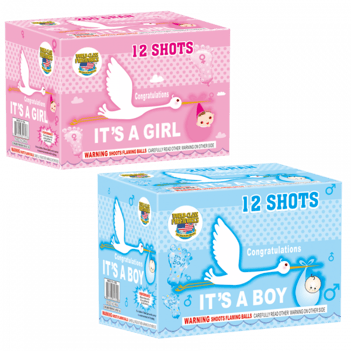 ­­­
Make the grand entrance of your little one absolutely glorious!