The red, white and blue color combination and fire effects on this 500 gram finale are out of this world! End your fireworks display with a bang.
This 500 gram finale will be the star of your show. With 36 whistling shots blasting 6 at a time, you are sure to grab your crowd's attention.
The Excalibur comes with 24 of the best quality canister shells on the market. These high quality canisters break over 250 feet high and over 200 feet wide making the Excalibur the best selling artillery shell in the WORLD!
The Biggen
The biggest assortment kit on the market. It weighs over 200 lbs and is sure to light up any party.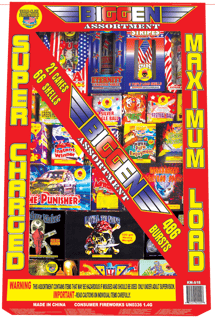 A great 96 shot piece for any family! Bright colors and long-lasting!