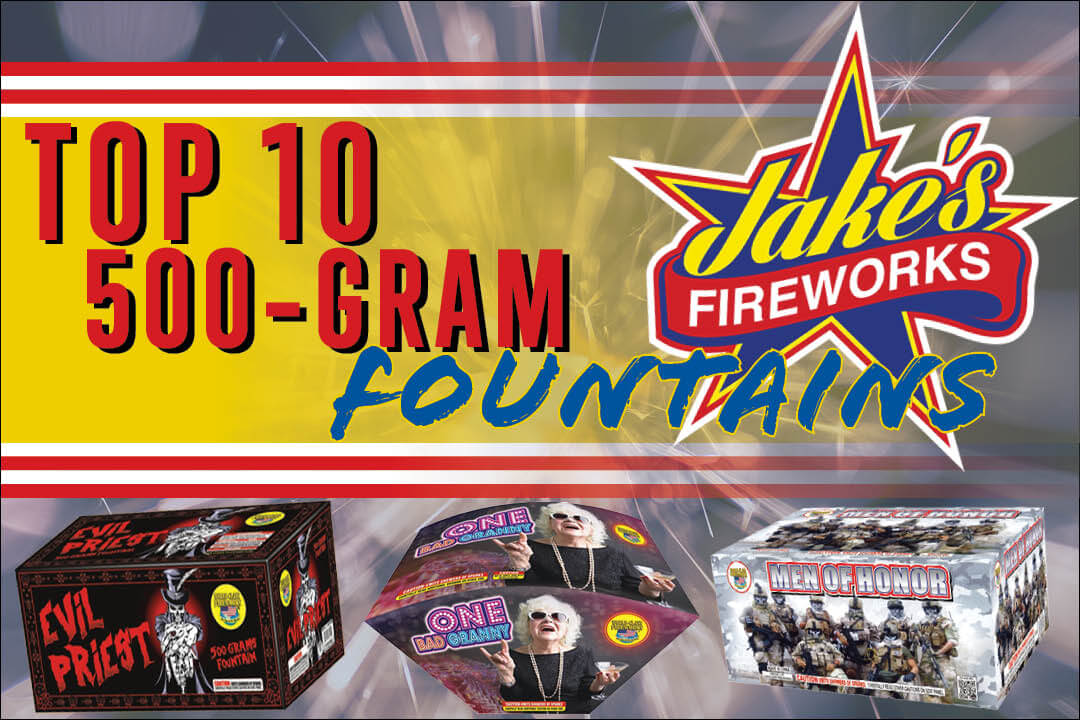 Jake's Fireworks is geared up and ready for the Fourth of July, are you? We want to ensure that you get the most BANG for your buck, so we narrowed down the search starting with our 500-gram fountains. Listed below are our top 10 500-gram fountains that are sure to light up your Fourth and get any party going!
Evil Priest
This power-packed fountain, Evil Priest is the perfect fountain to start or end your fireworks show (why not both!), as it brings a true power no one is prepared for! Evil Priest starts out soft, easing into its power through various stages. This fountain features vibrant colors pleasing to the eye, among constant crackles, for a lengthy duration definitely worth your buck. By the end of Evil Priest's performance, sparks will rain down on all audience members with its powerful finale. Evil Priest ranks out at the top of our list for 500-gram fountains.
Amazing
Its name speaks for itself, Amazing falls in at number two on our list with all its colors and crackles. Amazing also eases into its power, starting quiet and ending with an unexpected bang. Its various stages feature red, white, yellow, purple, green, and blue colors along with chrysanthemum, fish, flowers, and star effects. With its long duration and packs of color, Amazing will be nothing less than its name.
One Bad Granny
This fountain is not for your average granny, as One Bad Granny is bad to the bone, exemplifying it through sparks, noise, and bright color. One Bad Granny is not your average fountain, providing three fountains of sparks through its entirety only increasing in power as its duration goes on! This multi-color fountain features crackling, fish, glitter, and willow effects to create one truly Bad Granny. With its duration sitting at 64 seconds, One Bad Granny will even impress your own granny.
Men of Honor
This honorary fountain starts out as a trickster, acting as if it is a dud, only to come back power-packed and ready for action. Men of Honor seems to portray act of war with its various stages, loud noises, crackles, and explosions, which makes this 500-gram fountain unlike any other. With its long duration, Men of Honor features many colors, including red, silver, white, yellow, purple, green, and blue, as well as effects like chrysanthemum, pine needles, rain, spider, stars, and whistling. This war-like fountain is a great way to honor the men and women who fight for the country.
Headless Horseman
The Headless Horseman starts with color after changing color, shooting from two fountains then three for quality effects. The Horseman rides through a shorter duration but still leaves the crowd satisfied through its numerous effects. Effects include bees, chrysanthemum, stars, and time rain, mixed with lots of crackling; the Headless Horseman's finale ties its whole performance together with its transition from silver rain to a crackling end. This fountain also provides loads of color, including red, silver, white, yellow, gold, green, and blue. The Headless Horseman is a great fountain to keep the party going!
Be Happy
This fountain elicits no emotion other than what its name states: happiness. Be Happy is a fountain different than the rest, as what it lacks in noise and crackles it makes up for in color changing effects and smoke. This happy fountain is certainly one to include in your selection because it will spice things up and keep the rotation fresh, as not many other fountains change color the way Be Happy does. Featuring colors of blue, green, gold, orange, purple, red, silver, white, and yellow within glitter and sparkle effects, Be Happy is sure to make the audience smile. For anyone who is a fan of smoke balls, specifically, this fountain is perfect for you.
One Unbelievable Fountain
What's not unbelievable is that One Unbelievable Fountain is in the top 10 for 500-gram fountains. One Unbelievable Fountain starts out rather small only to bring out its strength through whistling and scream noises partnered with crackles. For a shorter duration, this fountain brings a big performance filled with action. You better believe it and try out One Unbelievable Fountain for your Fourth of July party!
Rhythm & Blues
This long-lasting fountain, coming in at 130 seconds, is truly patriotic with its colors and effects. Rhythm & Blues certainly represents America through its red and white colors, along with star effects. This fountain surely brings the rhythm and blues to the celebration with its multiple phases and crackling finale. For a nice and simple, longer fountain, Rhythm & Blues is a great addition to the lineup.
One Big Fountain
This One Big Fountain provides one big performance with its duration lasting longer than two minutes. One Big Fountain is certainly great for those who love noise-making fireworks, as it features whistle and scream effects through its entirety. With five stages, One Big Fountain keeps the crowd interested for the following stages. One Big fountain also features multiple crackle phases with colors of white and yellow primarily, bringing something different to the party.
Psychedelic
This fountain is nothing short of its name, as it brings all the colors and effects. Psychedelic right away features color-changing effects mixed with crackling, dragon balls, and chrysanthemum effects. This fountain keeps the crowd interested through its psychedelic-like phases with flashes, sparks, and more, lasting past two minutes. Adding Psychedelic to your Fourth is sure to bring some needed action.
This Fourth of July don't let your firework show fall flat, instead try out these 10 500-gram fountains and impress your guests! What is the Fourth without great fireworks? At Jake's Fireworks we have all your firework needs for the big day, come out and pick your favorite!